Before making a decision read information. Learn how to best use CBD, safely and confidently to use its benefits.
How much CBD to take?
The dose of CBD will depend on each case. For this, there are different variables that can modify the amount of CBD to take. Mainly we can focus on the potency or concentration of the cbd oil and the weight of the person. Although there are really other factors that affect the optimal dose for each person, such as the disease or our own metabolism.
That is why surely at some point you have asked yourself:
How much CBD do I have to take? Is it dangerous to ingest more CBD than necessary? How many times do I have to take CBD? What time is best to take CBD? Can I take CBD with other medications?
We are going to solve all possible doubts about these issues and others in the article: how to take cbd
On 4Collectors We have made a calculator so you can quickly calculate the amount of CBD to take. Remember that it can be variable since there are parameters that we cannot control. However, this calculator will allow you to calculate a dose taking into account the concentration of the oil and your weight. It is important not to lie about the weight 😉😆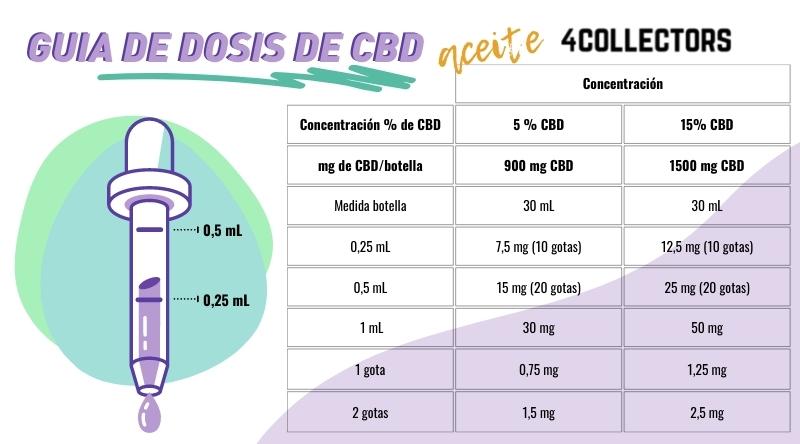 CBD DOSE CALCULATOR
(CALCULATOR COMING SOON)
We really can have a dose that exceeds what is recommended. That is why it is better to follow the dosage instructions and if the effects are not noticeable, increase the dose until you notice the desired effects. However, we must stop taking CBD or lower the dose if we notice side effects such as low blood pressure, diarrhea, tiredness, loss of appetite, or dry mouth.
The number of times you should take CBD per day depends on the causes you want to affect. For example, if you are going to take CBD for insomnia, you will obviously need to take the CBD before you go to sleep. If you want to take it for a discomfort, you should take it when you notice that discomfort. It is important to consult a doctor before taking CBD and in no case replace CBD with another medication without medical advice from an expert.